24° DIN (bite-type) Tube Fittings and Adapters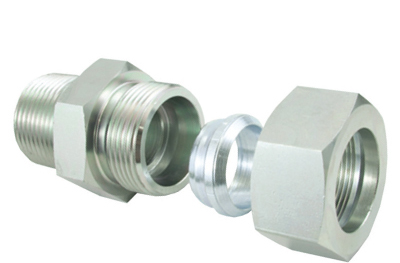 Adaptall is proud to announce the addition of 24° DIN (bite-type) Tube Fittings and Adapters. We are responding to customer requests and input to incorporate this complimentary line into our product mix. Adaptall's world-class expertise and knowledge of International threads and fittings makes us your ideal source and "one stop shop."
The Adaptall 24° DIN (bite-type) Tube Fitting/Adapter line has all of the features that your customers need:
World-class product and materials: Adaptall has partnered with RAC Fluid of Italy as the North American outlet for this superior product range, providing optimum quality and service.
World-class surface finishes: Adaptall's DIN tube fitting line achieves superior corrosion resistance, allowing 350+ hours to white rust and 700+ hours to red rust. This far exceeds the SAE corrosion resistance requirements.
A world of options: with Adaptall you have the choice of purchasing the tube fittings and adapters either as a complete assembly (with nuts and cutting rings), or as individual components – and at no extra cost. Need just the nut, sleeve, or fitting on its own? No problem. Need the fitting, nut, and sleeve assembled? No problem! And no hidden costs for any of these options.
A world apart: Another wonderful feature of this fitting series is the one-piece adjustable elbows and tees, which eliminate bulky assemblies with multiple fittings and joints. Compact equals efficient!

For pricing please contact your Customer Service representative at 1-800-463-8134.