The International Fitting Identification Kit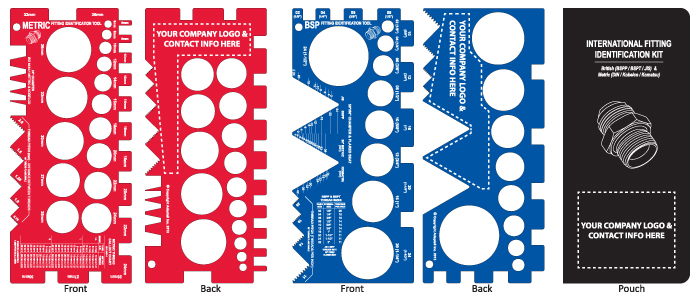 Adaptall is proud to announce its newest product: a field kit for aiding in the identification of British and Metric Fittings, engineered in-house and unique to Adaptall.
WHAT: The kit includes Metric and BSP Fitting gauges, capable of identifying BSPP, BSPT, 24° DIN Metric, JIC, Kobelco, Komatsu, and 30°/60° Metric. Made of high quality and durable plastic, the kit can be purchased in single quantities or fully customized with your company logo and contact details! Also comes with customizable pouch.
WHY: The International Fitting Identification Kit is a more practical and affordable solution for end-users to use in the field compared to calipers, thread gauges and drawings and/or reference charts while attempting to I.D unknown fittings. British and Metric thread types can be confusing, but with this tool a positive identification can be made within a matter of seconds. And by customizing the tool, the end-user is more likely to contact your location for assistance or to place an order.
HOW: Each tool includes posts for identifying female threads, ports for identifying male threads, thread pitch gauges (both threads per inch and mm distance between threads), as well as unique nose-cone and chamfer checkers capable of verifying 30°, 60°, and 24°. Comes in a high quality vinyl pouch for easy storage.
In single quantities the kit is branded with Adaptall logo and contact information. For orders of 2500+ kits, both the tools and the pouch can be fully customized with your logo, contact details, and color scheme (custom pouch color is price on request). Instructional booklets can be printed and assembled into pouch on request for small fee.
For samples, pricing, and details please contact your Customer Service representative at 1-800-463-8134 or sales@adaptall.com.
To learn more,
A Guide on How to Use The International Fitting Identification Kit