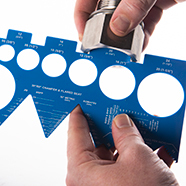 FEATURED PRODUCTS
THREAD GAUGES
The Thread Gauge Kit (TGK) is a convenient and affordable solution to identifying Metric and British threaded fittings in the field, shop, or store front. Featuring one British (BSPP, BSPT, JIS) tool and one Metric (MM, DIN, Kobelco, Komatsu) tool in a vinyl pouch, this tool allows you to identify internal threads, external threads, thread pitch, as well as chamfer and nose cone angles specific to JIS, BSPP, Komatsu, Kobelco, and 30/60 degree Metric. Custom branding available.
Metric and Komatsu covered sizes 6mm through to 36mm, DIN and Kobelco up to L42 and S38.
BSPP/BSPT/JIS covered from sizes 02 (1/8") up to 24 (1-1/2")
Displaying 1 to 4 of 4 products found.