9197 and 9199 Series Swivel Adapters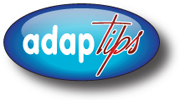 Announcing Adaptall's 9197 and 9199 series swivel adapters.
WHY: Perhaps you don't have the exact crimp Female Metric Swivel to match the application… or maybe you have a "stock-out" situation. Adaptall to the rescue – AGAIN!
WHAT: Our 9197 straight female swivel Metric DIN/ISO with soft seal o-ring to Male JIC are the answer. PLUS MORE! Another global first: our 9199 Series has the same thread combination, however in a 90° forged shape!

HOW: Use our 9197/9199 to make hose assemblies of your exact choice, no matter the application. Use and re-use the adapters across the entire spectrum… Braid, spiral, thermoplastic, etc… Useful for tubes and other circuitry applications as well!
Both series have been produced with "wire-nut" technology, adhering to the strictest ISO/DIN standards and allowing for a wide range of high-pressure applications.